Typical Military Installations
dee's steel forms and accessories are used to construct critical support infrastructure for domestic and overseas facilities, established bases and conflict areas/war zones.
WAR ZONES AND CONFLICT AREAS
When U.S. forces are deployed to war zones or conflict areas basic infrastructure for operations is often non-existent or, at minimum, requires upgrading. Typically this work is performed by military operational groups: the US Airforce Red Horse Brigade, the US Navy SeaBees, the US Army Construction Battalions as well as other selected military contractors. dee Concrete's forms and accessories are relied upon to quickly construct infrastructure such as:
Airfield runways
Helicoptor pads
Building foundations
Drainage gutters
Roadways
HEAVY VEHICLE PARKING PADS
Due to the extreme weight of heavy military vehicles (weight can range from 34,000 to 48,000 lbs.) they must be parked on reinforced concrete pads. dee has all of the products necessary to build these oversized parking pads for long and short term storage. Sample large wheeled vehicles include:
MRAPs (Mine Resistent Ambush Protected) combat vehicles
Supply trucks and trailers
Troop carriers
Mobile gun systems
dee Products Used in Typical Military Installations
dee Product
Application
High Curb Forms

knee walls
flight line service areas and barriers
walkway protection in high traffic areas

Paving Forms

airport runways
dock and wharf decks
roadways
heavy equipment driveways

Foundation Forms

grade foundations for service buildings
barracks
administration offices
recreation areas
parking pads

Curb and Gutter Forms

walkway protection
drainage control

Flatwork Forms

walkways
pads
light vehicle driveways
base lighting

Cold Roll Round Nail Stakes
(3/4" and 7/8")
I-Beam Flat Stakes
Form Braces

steel and wood form support

Stake Pullers

3/4" and 7/8" round nail stake removal
I-Beam flat stake removal

Smooth Uncoated Dowels
(1/2", 5/8", 3/4", and 1",
any length); Grade 60
ASTM A615 domestic steel


reinforement for pavements, slabs and walkways
structural reinforcement for concrete and masonry work

Custom Hand Tools

(curb tools, nose tools,
mules, straight edge pavers)


finish or free form
slab edges, sidewalks and curb face profiles per
specification
Following are several examples of US military installations around the globe including a flight line, a parking pad, custom form sets, an airfield, a vehicle maintenance building foundation, and infrastructure work.
Flight Line
| LOCATION | Kunsan Air Base, South Korea |
| --- | --- |
| APPLICATION | Barrier system on flight line |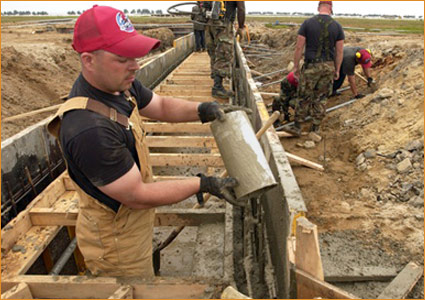 Staff Sgt. Shawn Vanzandt pours cement at the barrier systerm on the flightline at Kunsan Air Base, South Korea.
Parking Pad
| LOCATION | Ebbing Air National Guard Base, Fort Smith, AR |
| --- | --- |
| APPLICATION | Parking lot construction |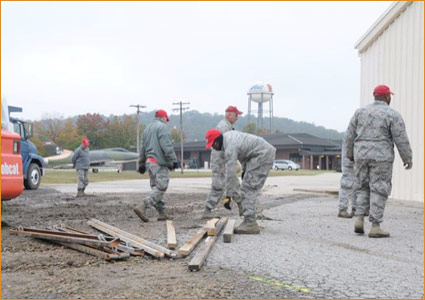 The 567th Rapid Engineers Deployable Heavy Operations Repair Squadron Engneers (RED HORSE) Squadron (RHS) replaced a gravel parking area with a concrete parking lot at Ebbing Air National Guard Base, Fort Smith, AK. Steel and wood forms like these are typically secured using dee's cold roll nail stakes.
Custom Form Sets
| LOCATION | Guam Naval Base |
| --- | --- |
| APPLICATION | Overseas base work: wharf project |
| JOB DESCRIPTION | Customized form sets were needed for major reconstruction work at the US Naval Base in Guam. Many different form lengths with custom dowel patterns needed to match forms on the opposing side of the form layout. dee welded sequential metal numbers onto every form end to prevent error in the assembly process. |
Airfield
| LOCATION | Bagrad Airforce Base, Afghanistan |
| --- | --- |
| APPLICATION | Airfield and infrastructure work |
| JOB DESCRIPTION | When the U.S. Military needed to expand their runways to support ongoing operations, dee suppled forms and accessories. Along with the new runways, helicopter landing pads were constructed as well as other base infrastructure work. |
Vehicle Maintenance Building
| LOCATION | Joint Base, Balad, Israel |
| --- | --- |
| APPLICATION | Foundation for vehicle maintenance building |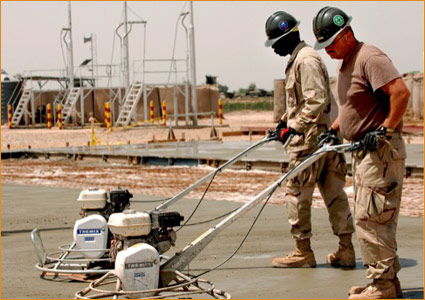 US Navy 070423-N-6436W-024 Seabees from Naval Mobile Construction Batallion (NMCB) 4 and NMCB-28 work together to finish a concrete foundation using steel paving forms for a new vehicle maintenance building in Balad, Iraq.
Infrastructure Work
| LOCATION | Fort Bliss, El Paso, TX |
| --- | --- |
| APPLICATION | Base infrastructure work |
Photo Credits
/www.af.mil/News/Article-Display/Article/130771/red-horse-squadrons-unite-in-the-flight/
www.188wg.ang.af.mil/News/News-Articles/Article/868972/188th-wing-engineers-train-567th-red-horse-squadron-reservists/
https://commons.wikimedia.org/wiki/File:US_Navy_070423-N-6436W-024_
From Wikimedia Commons, the free media repository