Company History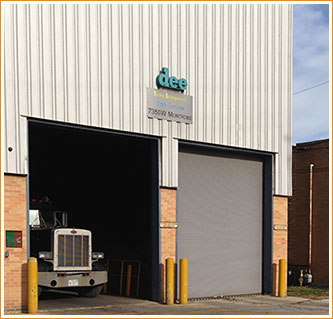 HOW WE STARTED
Mr. Joe Dee opened dee Concrete Accessories in 1956 to sell metal forms, nail stakes, and forming accessories to construction supply dealers. Mr. Dee had just obtained a patent on nail stakes.
Since 1995, dee has worked hard to expand our marketing activities and production capabilities, allowing us to doubles sales and become the industry leader for flatwork forms, metal and wood forming accessories, and nail stakes.
DEE CONCRETE ACCESSORIES TODAY
Today, dee concrete forms and nail stakes are produced in a 60,00 square foot shop in Norridge, IL. From this facility dee products are shipped via various modes to areas all over the country.
In 2000, we entered the paving forms market, producing 1/4" and 3/16" steel high quality, cost-competitive, forms for road paving activities. This line complements our other flatwork form lines, curb & gutter form lines, and our specialty, custom forms.
dee has set the industry standard for horizontally placed concrete forms and accessories. Our 3/4" and 7/8" nail stakes and form pins are the longest lasting and safest to use in the industry made from cold rolled tool steel.In addition to our 3/4" and 7/8"form pins, dee also produces 1" pins.
We are the only metal forms manufacturer that offers custom-designed and manufactured custom forms for our customers including:
super flat forms
tilt-up forms
reversible-tilt-up forms
foundation form sets
seawalls and marine forms
rehab forms
Today, dee employs approximately 60 metal craftsmen, staff, and managers.