Reversible Tilt-Up Forms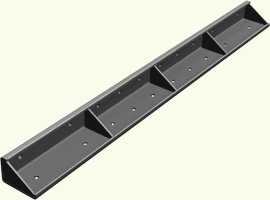 dee Concrete Accessories offers a complete line of tilt-up forms for horizontally placed concrete wall sections. dee reversible tilt-up forms are designed the same as standard tilt-up forms and come in the same range of sizes except that each side of the form has a different height allowing two separate heights to be placed with the same form.
Specifications/Range of Sizes
dee reversible tilt-up forms are available in any combination of form heights, fully reinforced, made in 10-gauge steel providing many years of dependable service.
Typical Applications
Buildings whose wall sections can be repetitively created on-site and lifted into place typically benefit from ReversibleTilt-Up Forms. Examples include:
Quick method of forming vertical wall sections

Saves labor and expense dollars

Wall section forming on-site

Controls the quantity, sizing, quality and delivery of the finished product.

Ability to place doorway frames, windows, vent frames, utility openings or other needed wall section objects into the concrete placement

Saves contractor time and money later in the construction process

Use one set of tilt-up forms for two different wall section depths

Added versatility