Tilt-Up Forms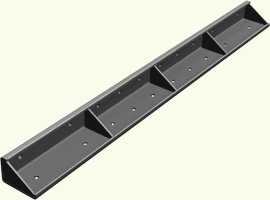 dee Concrete Accessories offers a complete line of tilt-up forms for horizontally placed concrete wall sections. dee tilt-up forms are manufactured with predrilled nail holes to facilitate a contractor's ability to nail them to the existing concrete or temporary wood sub bases prior to concrete placement. Tilt-up forms are used to form vertical concrete wall sections through horizontal concrete placement. The finished sections are tilted up or lifted into place.
Connecting hardware, lifting hardware, structural reinforcements, doorway frames, windows, vent frames, or utility openings are often mounted inside the tilt-up frame and encased in the placed concrete so that a finished wall can be created in one operation.
Specifications/Range of Sizes
dee tilt-up forms are available in heights 4" and taller, fully reinforced, in 10-gauge steel providing years of dependable service.
See dee's reversible tilt-up forms with two face sizes.
Typical Applications
Buildings whose wall sections can be repetitively created on-site and lifted into place typically benefit from Tilt-Up Forms. Examples include:
Quick method of forming vertical wall sections

Saves labor and expense dollars

Wall section forming on-site

Controls the quantity, sizing, quality and delivery of the finished product.

Ability to place doorway frames, windows, vent frames, utility openings or other needed wall section objects into the concrete placement

Saves contractor time and money later in the construction process

Equal dimension faces can be switched if one side suffers unforeseen damage

Continuous production

Doubles the life of use vs. a single faced set of tilt-up forms