Seawall Form Stabilizing Brackets for Wood Forming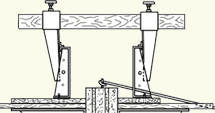 Seawall form stabilizing brackets create a stabilizing brace when used in conjunction with an adjustable wood 2x4, and work with any size dee seawall form. They prevent the seawall male and female keyway forms from bowing out horizontally due to the weight of placed concrete. They also improve finished panel quality, and protect the forms from potential damage.
Typical Applications:
Ports
Water treatment plants
Flood control projects
Canals
Dammed areas
Shoreline erosion projects
Channels
Boat docking areas
Parts List and Specs for dee's Seawall Form Stabilizing Brackets
dee seawall stabilizing brackets are made out of 10-gauge steel, weigh 5 lbs. each, and are sold in sets of 2.
Each stabilizing bracket is 14" tall and includes an open-ended rectangular channel which has been designed to insert a wooden 2x4 through. The channel is mounted on top of a 10" vertical bracket.
dee has designed and affixed a "T" shaped fastening handle to the top of the rectangular channel and when the handle is tightened it locks the inserted wooden 2x4 into place.
A 1.25" 90° angle stop is mounted on the inside of the bracket ~4" from the top and is designed to allow the brackets to rest on top of the seawall form rail.
ASSEMBLING THE BRACKETS
Insert 2 x 4" wooden crossbar; the 1.25" 90° angle stops must be positioned facing inwards


Place the assembly horizontally over the width of the seawall forms


Adjust bracket with angle stops facing in so they rest on top of seawall form rail


Tighten screw to lock the 2 x 4" wooden crossbar brace firmly into place
| Description | Product # |
| --- | --- |
| Seawall form stabilizing bracket | 787 |
Brace any sized seawall forms horizontally

Eliminates bowing from the weight of freshly placed concrete

Dimensionally accurate panels that are always usable

Eliminates rework

Eliminates form damage caused by bowing

Extended form life

Improved panel quality

Provides long-term forming solution for problems associated with bowed forms