for Metal Forming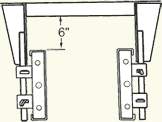 dee's top yoke stabilizer is designed as a custom accessory for the adjustable pier piling sidewall forms. The yoke is inserted into the stake pocket (dee product #901) of the two adjacent pier piling sidewall forms to lock them into place and ensure a solid squared pour with no blowouts.
Marine contractors can insert an optional division plate (dee product #356) at any point in the form set-up to create a custom length piling. We suggest using a top yoke stabilizer near the insertion of the division plate to ensure form stability.
Typical Applications:
Other marine applications
Specs & Sizes for dee's
A rigid stabilizer to hold the sidewall form in place and are designed for a specific piling width.
| Description | Product # |
| --- | --- |
| Top yoke stabilizer | 786 |
Produces a true square/rectangular concrete piling in 4" - 24" widths

Meet end-user specs

Aligns and bolsters pier piling forms

Forms will not shift or bow during placement