for Metal Forming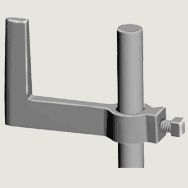 A screed bar holder is a metal device that clamps to the top of a nail stake or form pin and holds the screed bar parallel to the form during flatwork finishing. A screed is run along the concrete placement while it rides on the pipe or tube being held in place by the screed bar holder.
The screed bar holder has an attached angle bracket that is used to hold the screed bar.
Typical Applications:
Patios
Foundations
Intersections
Airport runways
Sidewalks
Pool curbs
Bridge approaches
Roadways
Driveways
Highway entrance/exit ramps
Taper pours for ramps
Specs & Sizes for dee's
dee's adjustable screed bar holder will accommodate a screed bar 1/4" to 1-3/4" wide.
| Description | Product # |
| --- | --- |
| Screed bar holder for use with 3/4" diameter posts | 107 |
| Screed bar holder for use with 7/8" diameter posts | 108 |
Quick alternative to tedious hand work

Saves time and labor expense