Curb and gutter forms
Curb and gutter forms are used when concrete contractors need to place a concrete curb and a gutter combination.
The curb and gutter forming systems consists of a back form, a face form, a front form, a division plate and a top spreader. Back and front forms are standard straight or radius forms with the back form taller than the front form.
dee offers two kinds of curb and gutter forms: radius forms and straight forms. Detailed information on each profile setup is contained on the straight forms and radius forms pages.
Curb and gutter setup
Concrete contractors use dee curb and gutter forms to form the industry-standard five basic curb and gutter profiles. These are:
Vertical face
Battered face
Bottom radius
Top and bottom radius, and
Drive over
The following graphics illustrate what dee forming components are required to assemble both radius and straight curb and gutter systems.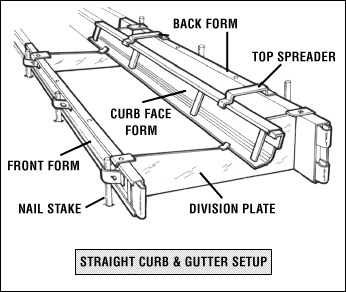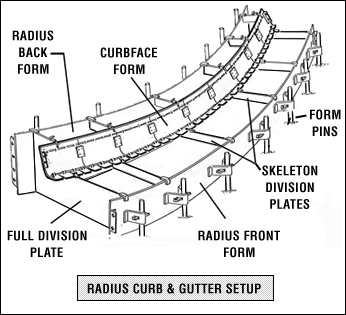 Contact dee Concrete Accessories at 1-800-245-1333, fill out our contact form, or email us at info@deeconcrete.com to discuss your individual curb and gutter form needs or to identify a distributor in your area.