High curb forms
dee Concrete Accessories high curb forms are used in curb applications when no drainage gutter is required.
High curb forms - description
dee makes a one piece full batter front form, and a one piece partial batter front form, for high curb forming fabricated to any height or batter desired.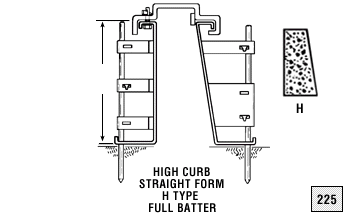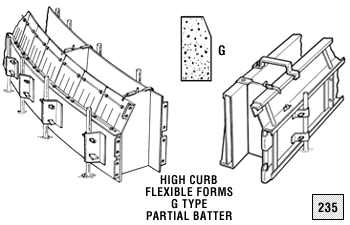 These 10' long forms have three tapered staking positions that provide the contractor with the ability to drive the stakes vertically regardless of the form's batter.

Applications
dee Concrete's high curb forms are perfect for forming concrete curbs used at commercial parking lots such as movie theaters, shopping centers convenience stores and strips malls, plus islands, parking lot dividers, and perimeter edges when drainage gutters are not required.
Specifications/range of sizes
Front and back high curb forms are the same height and are available with either full batter or partial batter. Top spreaders are used to "lock" the forms together.
High curb forms are available in heights from 12" up to 24".
These full batter and partial batter front forms are used when the contractor will only work with one profile and is looking for top speed in setting a curb run. These high curb forms can be combined with dee standard straight back forms, full division plates, and top spreaders to form a high curb profile straight as a die every time!
Features and benefits
Using dee's high curb forms provides contractors with the ability to easily and repeatedly form high curbs for applications where drainage gutters are not required, saving labor and material costs expended to build multiple sets of wood curb forms.
Contact dee Concrete Accessories at 1-800-245-1333, fill out our contact form, or email us at info@deeconcrete.com to discuss your individual high curb forming needs or to identify a distributor in your area.