Seawall forms
dee Concrete offers a line of seawall and marine forms and accessories designed to make seawall and pier piling concrete forming quicker and more profitable for marine contractors, seawall contractors and others involved in creating seawall and piers. All are available in custom sizes to meet your unique marine project specifications.
Seawall forms - description
dee offers both custom and standard adjustable seawall forms used to form keyed panels that are later set in-place and locked together to create seawalls in areas where they are necessary.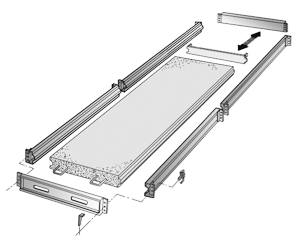 dee adjustable seawall form

Click here to view a larger, more detailed image of our
700 series dee adjustable seawall form.

dee has been an innovator in the manufacture of steel precast concrete seawall forms. Our standard adjustable seawall forms are 5' to 6' wide and 6" thick and use a sliding bulkhead to produce panels 10' to 16' high in 2' foot increments. dee's custom seawall forms can be made to be able to form seawall panels up to a height of 20'. The tongue and groove design forms a seawall composed of interlocking panels.

dee seawall forms are manufactured with alternating male and female keyway ends so panels fit perfectly. Our seawall forms use quick acting slotted connector bolts and wedges to quickly and firmly lock the seawall forming components together.

Applications
dee seawall forms are designed to provide custom and adjustable height (10' to 16') concrete forming of seawalls used in ports, canals, channels, water treatment plants, dammed areas, boat docking areas, flood control projects, shoreline erosion projects, retention ponds, fish farms and other aquaculture operations, and other similar applications.

Specifications and ranges of sizes
dee adjustable seawall forms are made out of 10-gauge steel, and can be used to form panels in thickness from 4"-12". They have the capability to form panel heights of 10', 12', 14' and 16' with form widths up to 10'. Seawall form sets consist of a male keyway form, a female keyway form, a fixed bottom bulkhead and top adjustable bulkhead.

Custom seawall forms with fixed bulkheads are also available upon request and are available in heights up to 20' and widths up to 10' depending on your finished seawall panel requirements.

dee's seawall forms have been designed with slots for lifting elements built right into the fixed bottom bulkhead. They can be assembled and disassembled using fast acting "thread less" connector bolts.

Features and benefits
General
dee's custom and adjustable-height seawall forms:
Provide a 10-year+ life, eliminating ongoing replacement form expenses, increasing overall profitability.

Produce an interlocking panel designed not to shift after installation, reducing or eliminating, customer quality complaints and/or rework time and expenses.

Produce a panel designed to install quickly, saving labor costs and increasing profitability.

Produce non-seawall panels or slabs, increasing form utility, creating additional business opportunities optimizing form investment dollars.

Produce standard and custom panels, eliminating in-house engineering services.

Allow the seawall contractor or marine contractor to form a specified custom size improving finished seawall consistency.

Allow the seawall or marine contractor to form 4 different heights of seawalls, 10', 12' 14' or 16', with one adjustable form saving form costs and improving seawall construction productivity.

Incorporate a vertical locking keyway design guaranteeing a solid and tight fit during and after panel placement.
dee seawall forms vs. wood forms:
Provide a long-term forming solution, enabling the pouring of hundreds of seawall panels compared to just 3-5 wood form uses.

Eliminate wood seawall form material purchases providing on-going material cost savings.

Reduce the use of skilled labor while improving productivity and profitability.

Reduce form setup and stripping time, increasing productivity, saving time and labor.
dee seawall forms vs. purchased pre-cast panels:
Save $1 per square foot on every panel, creating a competitive edge compared to pre-cast panel contractors.

Reduce seawall panel material and transportation costs by 25% - 30%, increasing company profitability.

Eliminate production and delivery delays, ensuring jobs are completed as scheduled.

Easily produce custom seawall panels, increasing the ability to satisfy custom requirements while increasing sales potential.
dee seawall forms vs. 2-piece steel forms:
Provide seawall forms that are easier to setup and use, improving overall forming productivity and panel quality.

Eliminate concrete build-up on 2-piece form sets, improving finished panel appearance.

Provide easier disassembly, reducing clean up time and labor expense.

Decrease the number of seawall form components, simplifying assembly while saving ongoing labor expenses.
Contact dee Concrete Accessories at 1-800-245-1333, fill out our contact form, or email us at info@deeconcrete.com to discuss our individual seawall form needs or to identify a distributor in your area.



Seawalls and Marine Forms
Seawalls and Marine Forms Accessories
Other Concrete Forming Products